July 20, 2021

10 minutes read
Why opt for a family session?
These days, family photo shoots are a very popular trend, especially the occasional ones. It is a great way to "stop time" and create a souvenir for years to come.
Usually family photos are amateurish, badly framed, out of focus, chaotic. Someone is missing, because you have to operate the camera, someone else has moved, closed his eyes, made a silly face. Of course, such photographs have their charm, but if we really want to look good with our family in the picture, we should use professional services.
Why family session is a good idea?
Time goes by very fast and before we know it, children will be grown up, parents will be gray-haired and some family members may be missing. Photos are our only window into the past, into the proverbial good old days. That is why it is worth using the services of a professional who will help us preserve what we want to remember and pass it on to future generations. The session is also a perfect excuse to gather the whole family in one place, when its members are on the move.
A good photographer will capture the best features of our family, and digital processing will hide the imperfections that we are so often ashamed of. The entire session can be tied together by one visual theme or subject matter – flowers, plaid shirts, playing in the park, unwrapping gifts, a trip out of town, etc. You can also use interesting or fun props.
In the heyday of analog photography, it was easier to fill countless albums with photos of family events, trips, and shared activities. Today, digital technologies have made the role of such albums taken over by our cell phones and personal computers, which are often overflowing with photos that we never return to. It can be different with photographs from a professional session.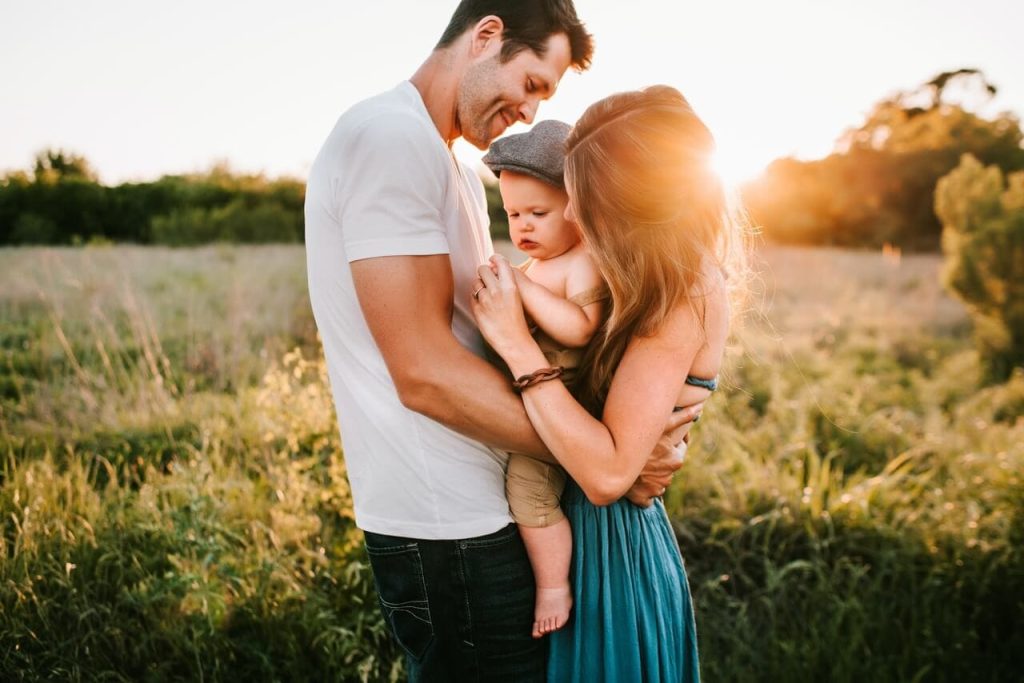 Ideas for highlighting photos
We usually post photos on our social media accounts, but how many times do we go back to them later? If you've already decided to have a professional session, it's worth highlighting the results in a unique way. There are several possibilities.
Prints for frames
Posters, graphics and paintings are more and more often dominating in our homes. Definitely less often we hang family photographs, and yet they can also be a coherent element of home decoration and atmosphere
We can print photos on special paper or canvas and add a suitable passe-partout and frame, which will complete the composition and help match it to the decor of the room. On the market there is a huge choice of wooden, plastic, glass and even metal frames in various shapes and colors – everyone will find something for themselves.
Photo albums
The most classic way to keep family memories. We can find many different ready-made variants in stores or we can use the option of personalizing the design. What possibilities we have:
Cover
First of all, we decide whether the cover should be soft or hard. The more appropriate choice is obviously a hard cover, because it is more durable and better protects the photos.
In addition, we can decide what material is to be made cover, what color and graphic elements to have. The cover can be covered with paper, fabric, various foils, artificial and natural leather. Paper is the least resistant to damage option, but also the cheapest.
The materials for covering the inside of the cover can be as varied as the covering of the outside. However, the inside of the cover is less likely to be damaged, so you can safely choose from a wider variety of fabrics and papers.
Pages and photo attachment
Partitions made of transparent PVC film are very convenient and provide extra protection for your photos. They do not require any special effort to place photos in them. However, they may be too boring for some people. Moreover, after a few years, the film may start to release chemicals and cause unsightly stains to appear on your photos.
Another option is sheets, which allow you to place your photos more freely and do not limit your choice of sizes. However, the adhesive layer can be impermanent and wear off quickly.
Classic blank cardboard sheets allow you not only to attach different sizes of photos, but also to combine them on a single sheet in various and unique compositions. In addition, we can decorate the interior with various trinkets and add captions to the photos.
In this variant, to better protect the photos, there are sheets of tracing paper between the cardboard pages.
Joining the pages
The classic option for joining the sheets is gluing or sewing. In addition, the pages can be connected to each other and to the cover by various strips, spirals, rings, etc.
Photobooks
In albums, we place images developed separately, while in photo books they are printed directly on the pages, so their arrangement is not limited by special dividers and windows.
Photobooks are made to order and we can influence the appearance of virtually every element of the design:
Size and shape – there are very small photo books, universal and standard in A4 format, to larger ones in 40 × 30 cm size. In addition, they can be square, rectangular (vertical, horizontal), and even round.
Printing method – photo print, which is the highest standard, guarantee of high quality and durability or digital printing, which is a more universal and economical choice.
Cover – hard or soft, matt or glossy cardboard, fabric or leather.
Method of joining the sheets – they can be stapled or glued, panoramic joining is possible, which allows you to open the book a full 180 degrees.
Themes – wedding, family, children, retro, travel, Christmas, pregnancy, birthday, etc.
Composition – you can freely choose the layout and arrangement of photos on the sheets, add to them graphic decorations, color details or complementary texts and descriptions.
We can transform any material from a family photo session into a beautiful wall display, a classic photo album or a modern photo book. The possibilities can be dizzying.